The first White2tea club tea of 2021! 2021 January White2tea Club is a 100 gram fire roasted bamboo shou – 2020 Amalgamation of Capitol – exclusive to the tea subscription. Also included is a tea needle for breaking said bamboo shou.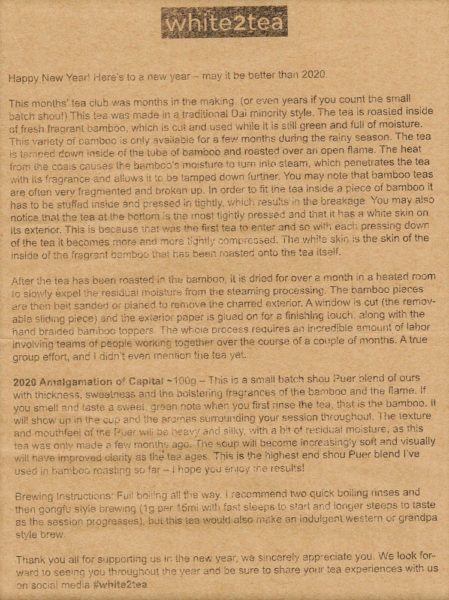 Leaf and Steeping Method
This was presented well and easy to get into as the top comes off and a bamboo length is already broken.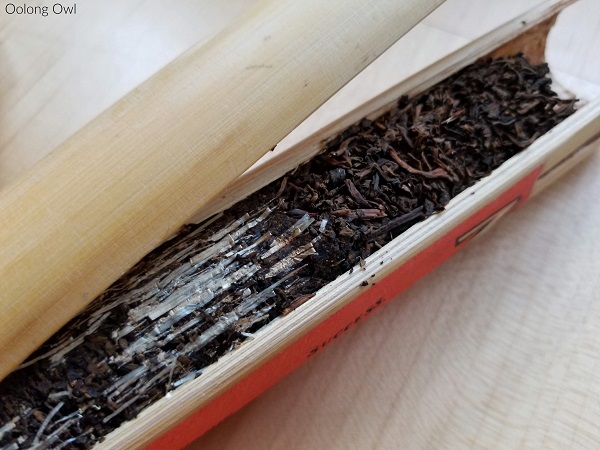 2020 Amalgamation of Capitol's scent is mostly of roasted bamboo, along with earth, slightly funky, shou. This won't be the perfect example of this tea as I'm taking tea from the top, which has a much looser compression.
I used 1 gram of leaf per 15ml of vessel size, gongfu steeped in boiling water. With the tea in the gaiwan, it smells much more distinctively smokey and sweet shou.
Tasting of 2021 January White2tea Club's 2020 Amalgamation of Capitol Bamboo Shou
First, Second, and Third Infusion: I tried the rinse out of pure curiosity and it is sweet and smokey, similar to a steeped out smoke lapsang souchong, but with a shou earthy flavor.
For the actual infusions, the tea colour starts off inky dark.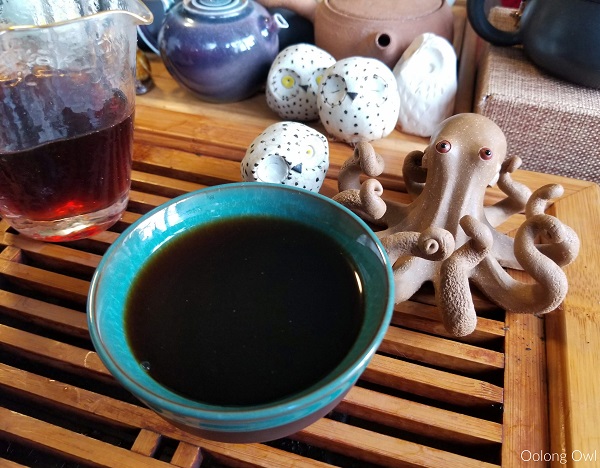 The flavor is rich, strong but sweet earth balanced with smoke. Some sips are a bit tart and bittersweet. The texture is thick with an oily feeling leftover. After a sip, 2020 Amalgamation of Capitol has a bit of cooling from the bamboo.
Fourth, Fifth, and Sixth Infusion: 2020 Amalgamation of Capitol is smokey sweet with a tart funky earth flavor. Each infusion gets smoother and sweeter, losing the tart notes. The smoke notes still hold, so this tea is a mineral sweet, smoke, and bittersweet shou.
Seventh, Eighth, Ninth, Tenth, Eleventh, and Twelfth Infusion: The smoke here is just a wisp, like an extinguished stick of incense. Amalgamation of Capitol is sweet bamboo, mineral, bit earth, and quite sweet and smooth. The final infusions are mineral sweet, and this tea feels like it could go on longer if I used a better vessel.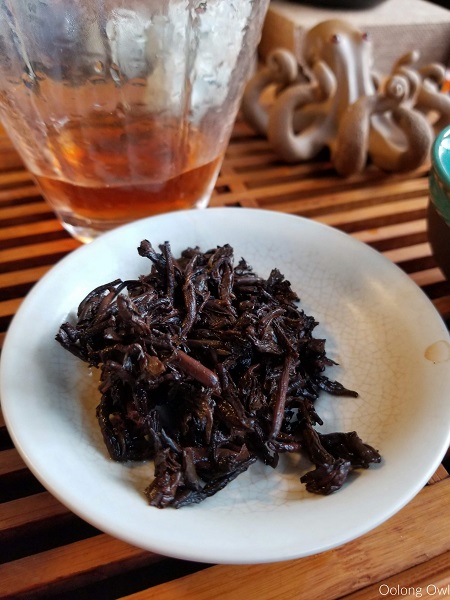 Comments
The 2021 January White2tea Club's 2020 Amalgamation of Capitol is complex, great texture, and added smoky taste and cool feeling.
The smoke is done fairly well, it's not ashy tire fire, but still is strong. I imagine this tea can change a lot with age, as the wet pile is still there as well as all the smoke. Either way, this tea is dark, rich, sweet, and resteeps very well.
The post 2021 January White2tea Club feat. Exclusive 2020 Amalgamation of Capitol appeared first on Oolong Owl.