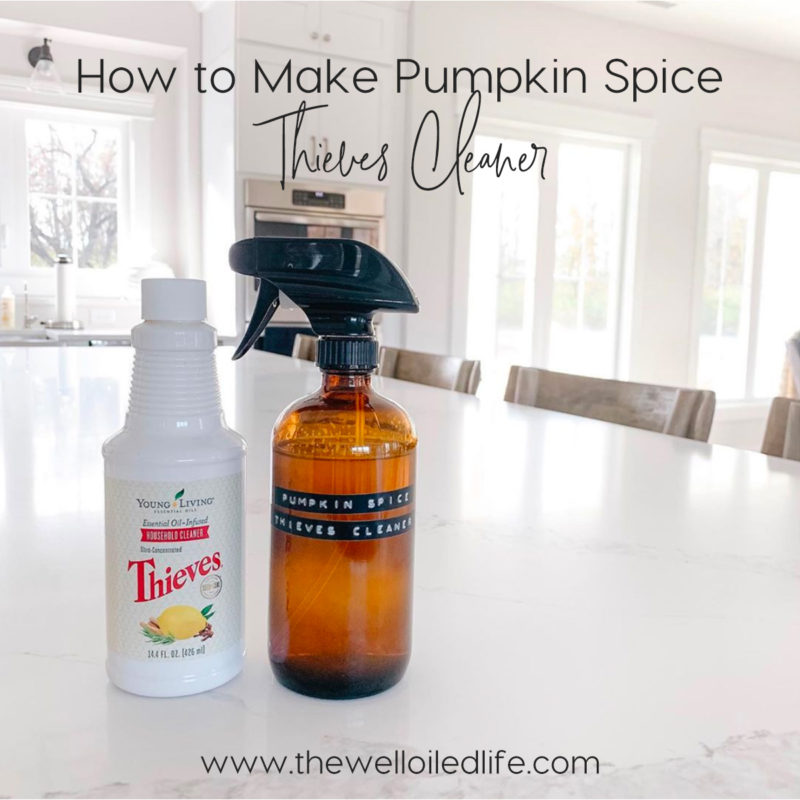 It's Fall, so Pumpkin Spice all the things, right?!  Ha!  Did you know you can add your favorite essential oils to your Thieves Cleaner and completely customize the scent?!  It's seriously one of my favorite things to do!
Thieves Cleaner is one of the BEST values in the Young Living catalog because just one bottle of concentrate makes 29 bottles of cleaner… seriously, where else can you get a completely safe AND effective cleaner for less than $1/bottle?!  Insane.  This cleaner can replace all of your household cleaners and help you DITCH toxins from your home.  You can use it to pre-treat laundry, make a soft scrub for sinks and bathtubs, spray down countertops and toilets, and much MUCH more.
For an extra special touch, you can customize the scent.  You probably came here for the Pumpkin Spice recipe, so here it is!
Pumpkin Spice Thieves Cleaner
+1 capful Thieves Cleaner
+10 drops Orange
+5 drops Cinnamon Bark
+2 drops Clove
+2 drops Nutmeg
+2 drops Ginger
Fill with 16oz distilled water, shake, and clean away in heavenly pumpkin aroma!
Personal Favorite
My personal favorite way to scent Thieves Cleaner is by adding 10 drops of Christmas Spirit and 10 drops of Northern Lights Black Spruce.  HEAVENLY!
Here is a quick video showing how simple it is to customize the scent of your Thieves Cleaner.
Adding essential oils to your Thieves Cleaner is totally not necessary, it smells so great as is.  But adding oils bumps it up a notch in my opinion, and it makes me motivated to clean and wipe down EVERYTHING!
If you need help diluting your Thieves Cleaner, check out this post.
And if you still need a Young Living discount, you can grab yourself a Thieves Premium Starter kit here, which will include a 24% discount for life, no strings attached!