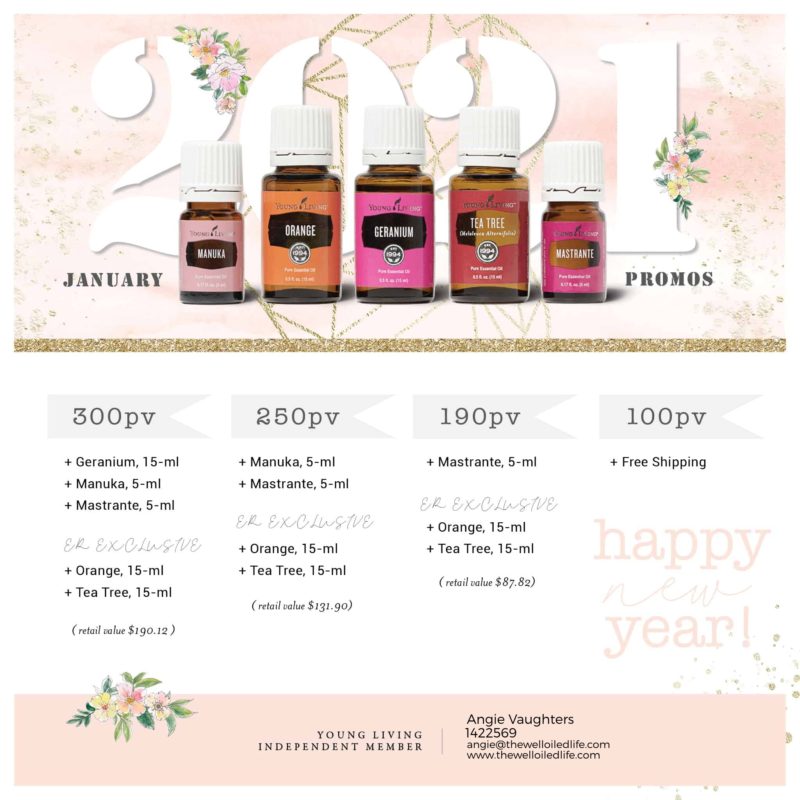 Are you ready for the Young Living January 2021 monthly promotion? These oils are GREAT for skin and mood!
As a reminder of how the promos work, if your order reaches one of the PV levels, you get all the products for free at that level! Some promos are 'ER Exclusive', which means you will get those items if your order is your monthly Essential Rewards order (the most economical way to buy YL 😉)
100PV – Free Shipping!
190PV – 5ml Mastrante + 15ml Orange (ER Exclusive) + Tea Tree (ER Exclusive) + above promo
250PV – 5ml Manuka + above promos
300PV – 15ml Geranium + above promos
Mastrante
Mastrante is wonderful for skin and is great to add to your moisturizer! It also pairs well in the diffuser with lavender and citrus.
Orange
Orange is a favorite oil around here! Citrus oils are great to uplift a funky mood, I love adding orange to my diffuser combos. We also like to add a drop of this on top of our toothpaste for extra tooth whitening! You can also make a 'Happy' roller with 10 drops each: Joy, Orange, Bergamot, Valor and Stress Away.
Tea Tree
Tea tree is great for skin, especially for blemish-prone skin! Spot treat any problem areas or oily skin with Tea Tree! Make a simple toner for your T-zone: To a 10mL roller add: 20 drops Tea Tree, 10 drops Lemon, 10 drops Lavender, fill with witch hazel.  Tea tree is also a great oil to use on heels and toenails.
Manuka
This is another great oil for skin, and it is similar to Tea Tree! Make this ultimate 'Glow Serum': To a 2oz glass dropper bottle add: 10 drops Manuka, 10 drops Rose (or 10 droppersful of the CBD Beauty Boost), 10 drops Blue Tansy, 10 drops Frankincense, and 10 drops Royal Hawaiian Sandalwood, plus carrier of choice.
Geranium
Yet another great oil you can add to your moisturizer because it is great for skin. You can also diffuse this oil's floral aroma or make a perfume roller! Geranium pairs well with Tangerine, Ylang ylang, Lavender, Lemon, and White Angelica.
Happy 2021!