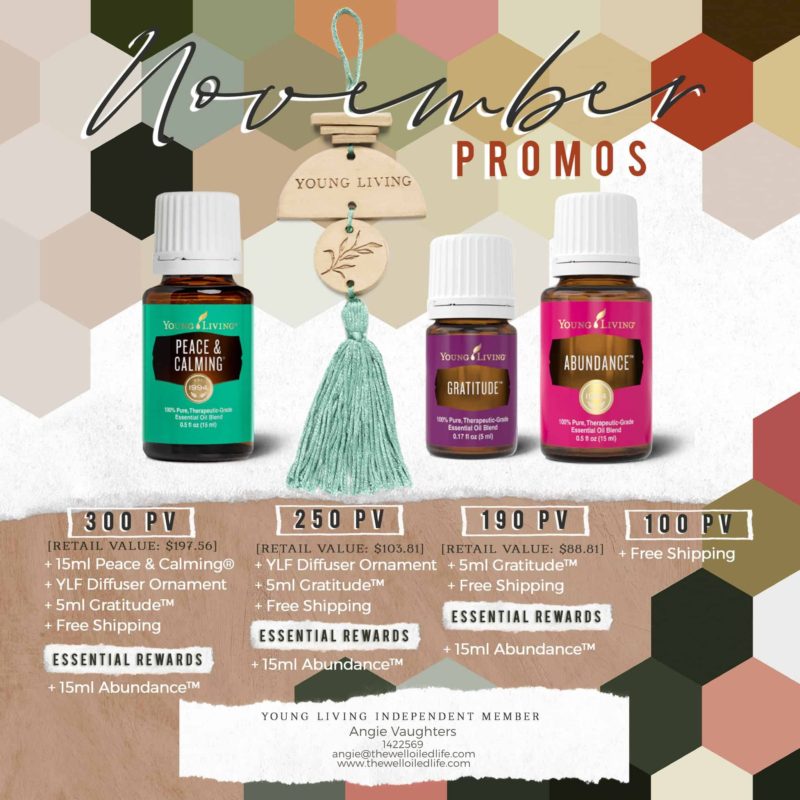 Young Living's November monthly promotion is here! 15ML PEACE & CALMING!!!!!
As a reminder of how the monthly promotions work, when the PV of your order reaches one of the promotional levels, you earn all items at that level.  This applies to both regular and Essential Rewards orders!  Please note that some items are 'ER Exclusives', meaning you'll receive them on  Essential Rewards orders only.  You can read all about the money-saving Essential Rewards program here.
Let's check out the promo:
FREE SHIPPING // 100PV
Enjoy free shipping on all 100pv orders!
GRATITUDE 5ML // 190PV
This blend contains Balsam Canada, Frankincense, Myrrh, Ylang Ylang, Bergamot, Coriander, Northern Lights Black Spruce, Vetiver, and Geranium.  As we know, connecting specific scents to activities can be powerful in establishing a habit, so this oil is great to use when journaling or even just stopping to be grateful!

Gratitude essential oil blend is also wonderful to add to some bath salts.
ABUNDANCE 15ML// 190PV ER EXCLUSIVE
Abundance has a warm aroma of Orange, Frankincense, Patchouli, Clove, Ginger, Myrrh, Cinnamon, and Black Spruce.  This is another oil that is great to use when forming a new habit, and many also like to apply it daily to their wrists.  A friend uses Abundance combined with Valor for perfume and says she always gets compliments!
YOUNG LIVING FOUNDATION DIFFUSER ORNAMENT // 250PV

Place a drop or two of oil on this ornament, and hang it on your tree or in your car!  With this diffuser ornament, you are helping vulnerable women in Uganda gain stable employment to provide the opportunity to send their kids to school.  This ornament order from Young Living was the largest this group has ever had, and gave 752 women fair pay work!
PEACE & CALMING 15ML // 300PV

A big bottle of Peace & Calming!  Right now we can only purchase a 5ml bottle of this, so I'm pumped we can get a big bottle for FREE this month!  I love to use this oil before going to bed or if I'm feeling edgy during the day.  Lots of mamas use this to help calm kiddos having a tantrum, and it's also a great oil to diffuse during the day to feel calm and peaceful.  Peace & Calming contains Tangerine, Orange, Ylang Ylang, Patchouli, and Blue Tansy.
GETTING STARTED
If you don't yet have a Young Living discount, you can get started here with any starter kit!  Contact me with any questions, I'm here to help!
Happy November!!!