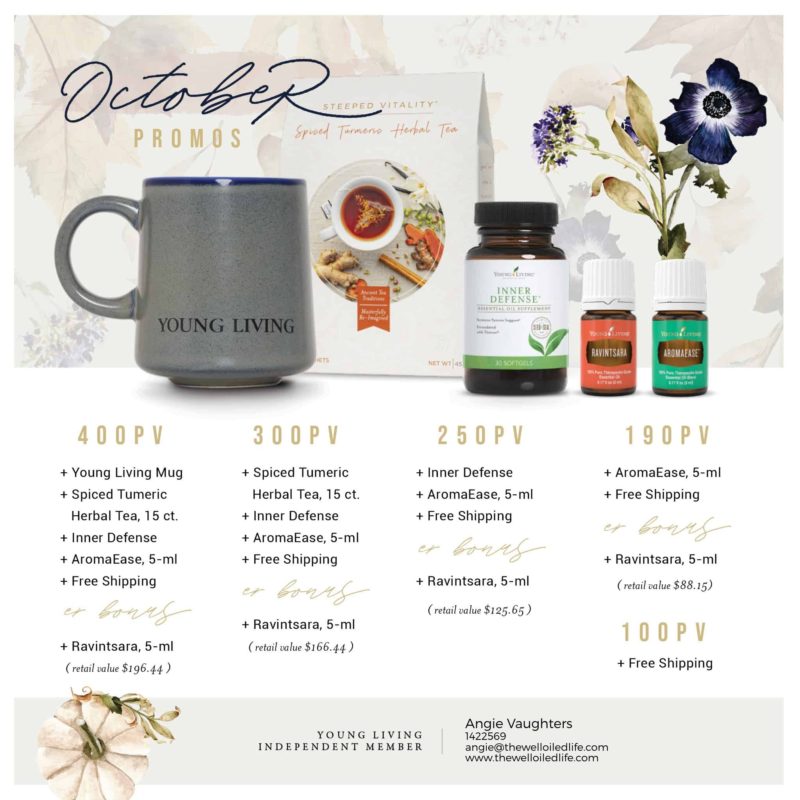 Young Living's October monthly promotion is here, and it's AWESOME!
As a reminder, when the PV of your order reaches one of the promotional levels, you earn all items at that level.  This applies to both regular and Essential Rewards orders!  Please note that some items are 'ER Exclusives', meaning you'll receive them on  Essential Rewards orders only.  You can read all about the money-saving Essential Rewards program here.
Let's check out the promo:
FREE SHIPPING // 100PV
Free shipping is here, and it's here to stay!  Enjoy free shipping on all 100pv orders!
AROMAEASE 5ML // 190PV
Treat your tummy to some TLC with this blend! Had one too many pumpkin spice treats? Apply equal parts AromaEase and V-6 onto your stomach and rub it into your skin for a soothing aromatic experience.

Be prepared. Keep this blend pre-diluted in a roller and store in your car for belly needs while in motion! Or throw in your bag if you're traveling via plane or especially by boat!
RAVINTSARA 5ML// 190PV ER EXCLUSIVE
Breathe deeply. Ravintsara (commonly known as camphor) is a wonderful respiratory support oil and a key ingredient in the Raven oil blend. Diffuse alone or with Lemon or Lavender, dilute with V-6 carrier oil and apply over the chest, neck and back as desired for supporting the airways.

Diffuser blend: Try 2 drops each of Ravintsara, Peppermint, Spearmint, and Copaiba.

Look after your skin. Add Ravintsara to your face wash or toner for an extra boost of skin-cleansing properties.
INNER DEFENSE // 250PV

Make health a priority. This powerhouse capsule contains some amazing immune support oils like Oregano, Thyme and Cinnamon Bark. Take your Inner Defense with food, ideally a dose of healthy fat for ideal absorption!

Rake in the health benefits. Up your daily dose to 3–5 softgels or combine the healthy immune-supporting power of Inner Defense with our probiotic powerhouse Life 9. This is a great habit for when your body needs extra support!
SPICED TURMERIC HERBAL TEA // 300PV

Enjoy a hot cup of goodness. Treat yourself to this exquisite evening tea filled with organic ingredients and warm, familiar spice. Turmeric is an especially powerful ingredient in this tea and a great addition to your wellness routine!
YOUNG LIVING MUG // 400PV
Empower financial well-being. In collaboration with the Young Living Foundation, each mug is handcrafted from natural, locally mined clay by women artisans in Vietnam. Your order helps these artisans break the cycle of poverty, find financial stability, and provide for loved ones.
GETTING STARTED
If you don't yet have a Young Living discount, you can get started here with any starter kit!  Contact me with any questions, I'm here to help!
Happy October!!!